Book a free workout at box12
BOX12 is a 36-minute workout consisting of 12, 3 minute rounds that combine boxing and functional fitness exercises.
We'd like to invite you to come and experience a workout for FREE! Just click the button below and complete the form to book your workout.
BOX12 is a 36-minute workout consisting of 12, 3 minute rounds that combine boxing and functional fitness exercises.
A new round starts every 3 minutes, there's no need to rely on anyone else, just turn up when you want and start on round 1.
You will be guided by our helpful and knowledgeable staff who will inspire you to achieve and learn the basics of fitness boxing combined with functional exercises.
Your workout will be tailored to your fitness level using integrated and wearable Myzone technology, providing real-time feedback.
A BOX12 workout will see you working at around 80-90% of your physical capacity and burning anywhere between 500 and 700 calories.
"Literally the best workout I've ever tried. So much fun, staff are friendly and motivating. Week 5 and absolutely loving it!"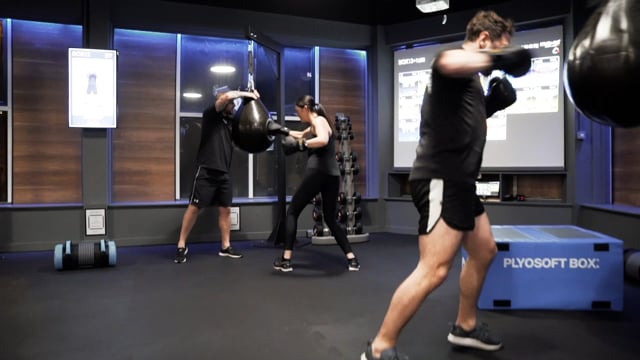 Here's what they say about the BOX12 experience...
"Finally a gym that fits around us and our family, not a timetable so we can actually train together! We just turn up when we're ready and train, even on my birthday!!! See you after work for another awesome workout 🥊"
"Thoroughly enjoyed my first ever workout today at Box12, I was extremely nervous as I have no experience of boxing 🥊 but the staff were lovely and gave a quick but thorough induction, I can honestly say that was one of the best workouts for only 36 mins I've ever done! Can highly recommend anyone to try."
"Great work out for a complete novice or experienced boxer/martial artist. Easy to follow 12 round circuit. Very professional and immaculate facilities. Heart monitors help you to push your fitness limits!! Would highly recommend!"
"Great introduction to boxing fitness, with additional stations for more interval cardio work. Great mix of HIIT. Safe and clean environment. Fab one on one pad work. All round great environment, lots of lovely ladies in while I was there."
"It's the best workout you will get in my opinion. Equipment is top quality and the staff are amazing. Get yourself down there, you won't be disappointed. Thanks, had an amazing session today."
"Went for a free taster work out and omg what a killer…aching the next day can only be a good thing right?"
"Great workout! Takes a bit getting used to throwing punches, but you soon get into the swing of things. The live heart rate feedback is awesome and really shows you how hard you're working. Highly recommend!"
"Great place, friendly staff, very modern and unique- no where else in Stoke."
"Went for the free class and wow what an experience. You get a full workout and there is someone there to show you what to do. Loved it."
"I've done fitness all my life and can honestly say that BOX12 hits all the boxes "pardon the pun", hits cardio, strength, conditioning. If you put the work in you'll get the results, I burnt over 900 calories in the 36 min workout, do that in a gym and see how long that takes you. The team at BOX12 are friendly, welcoming and are there to encourage."
"Brilliant, I really enjoyed it."
"It trains all your body and you get a proper cardio workout. The trainers were very knowledgable, professional and lovely."
Since being at BOX12 from January I can honestly say it is incredible! From the exercise to the staff. I never understood what it was like to fall in love with exercise before BOX12! I can see constant changes in my body and my strength every week.
I love BOX12 so much! The trainers are so supportive and make sure you really understand every exercise so that you can get the full benefit of the workout.
Our combination of functional exercises and fitness boxing will be challenging, and unlike anything you have ever experienced before – but our technology will optimise the workout and tailor it to your fitness level, so you don't need to be a super-hero.
Your workout will be structured and focussed, and you'll need to communicate too, so leave the headphones at home, as we'd like to get to know you.
Bring yourself (important) and general fitness attire, and if you have your own boxing gloves then bring them too – if not don't worry as we have all the kit for you.
Don't worry if you've never boxed as part of a workout before, as our coaches will induct you at the start and will be there with you through to the end. Remember, our boxing workouts are non-contact and we want you to get fit not hit, so if you're spoiling for a fight, this is not the place for you.
Once you've finished we'd love your realtime feedback and for your #sweatyselfie to hit our social feeds on Instagram & Facebook.
BOX12
Higherland
Newcastle-Under-Lyme
Staffordshire
ST5 2HN